Zippboxx Commercial
Full Service Storage Company
About This Video Project: We were hired to produce a commercial and landing page video for Zippbox, a full service storage company that picks up and delivers your items and stores them in their Long Island facility at reasonable rates.
OBJECTIVES
Introduce New York City to a new full service storage company that picks up and delivers
Relate to the pain of New York City residence who struggle with limited space causing clutter
Show how easy the service is to use through desktop and mobile devices
Demonstrate the before and after clutter solution ready on your schedule
SERVICES USED
Conceptual Planning
Scriptwriting
Actor/Voice-over Casting
Video Production
Post Production
Motion Graphics
Still Photography
WHAT WE DID
We produced a :30 and :60 video commercial for Zippboxx. The ads play on local TV and the website. In addition we were hired to capture still photography of the storage facility, items, and company vehicles for website imagery. We created scene outlines instead of a storyboarding which saved the client approx. $500.
We filmed at several locations including a New York City hotel room that resembled an apartment in the city, exteriors footage around the city, and Zipboxx's Long Island facility. At the time of filming the app was not fully finished so we needed to get some additional pickup shots about a week later. Instead of having to go to actual location, we shot the live action iPad screenshots locally at Zippboxx's storage center with one of their employee's hands to match the apartment scene. This saved the client money in the budget.
Editing was approx. 25 hours over the course of about 2 weeks. In addition we did 4 hours of still photography documenting the facility items, and vehicles in action for website images and marketing materials.
When we delivered the final cut to the client, they were thrilled with the results. The video plays a vital role on one of their landing pages, it's used at all Zippboxx trade show exhibits, and airs locally on News 12. After the client met with News 12 to prepare the ad for broadcast, we received a pleasing call from a News 12 account executive applauding us for the quality of work and letting us know they will be recommending our services to their advertising clients.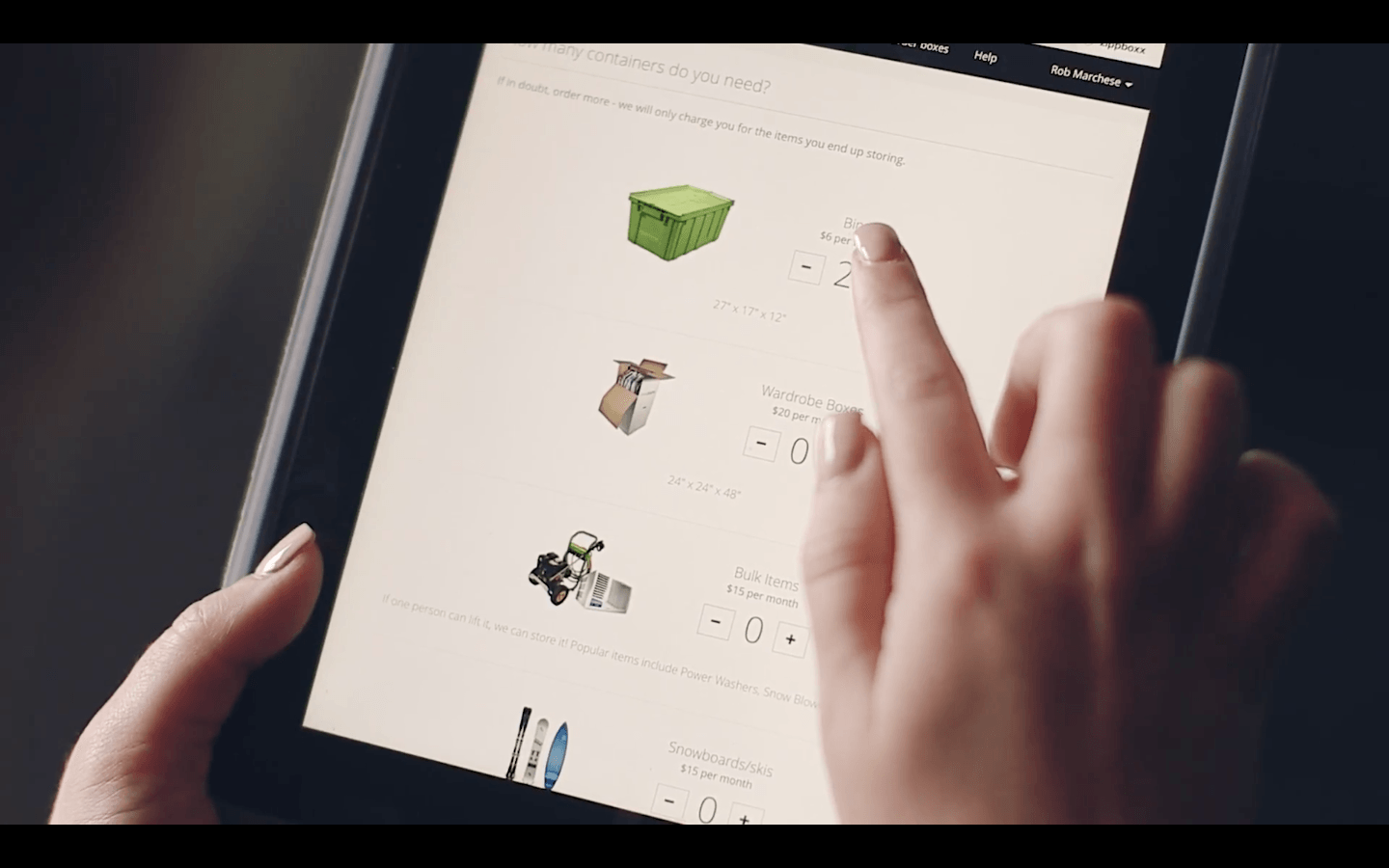 Let Us Know How We Can Help