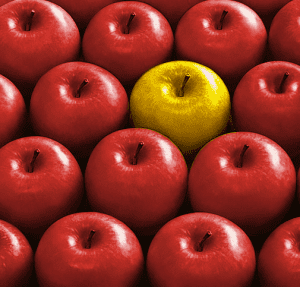 The Yellow Apple is a story that we came up with to describe our ultimate goal with our clients and partners. It goes like this..
"There is a basket with red apples, but somewhere in the middle there is one yellow apple."
Q: Where does your eye go at first glance?
A: The yellow apple.
Q: Why did your eye go there?
A: Because it stands out or because it's different, because it appears to stand out from the crowd.
Did you think the same thing? Most people do and we know this.
This helps describe our vision to our clients because our goal is to make them the yellow apple and help them stand out from the rest.
This idea is a simple one but often overlooked by many. We find that many video production and marketing companies look for a one-size-fits-all strategy to create a video marketing campaign because it worked in the past. The fact is we are all different. I mean our businesses of course. Yet we don't act this way. We try to follow the success methods of others which is exactly what everyone else does. This ensures we do not stand out in a sea of similarity.
We believe in a strong story and a strong storyteller. We believe too many characters can hurt a story. We believe that it is important to get across the most important messages and if there are too many, we need to lead them into other media/videos, instead of piling everything into one video. We believe every successful business solves problems for their customers and customers need their problems solved. Remember the old saying "If there's a need….fill it!" We believe human stories are the most emotional and compelling of all stories.
If you align with these beliefs when getting your message out, then you are our kind of client. Contact us for a free consultation so we explore your company vision and find your story. Let's make you the yellow apple!